Product Description
About the Sherline CNC-Ready 4″ Reverse Rotary Table
Sherline has taken its P/N 3700-OP manual 4″ rotary table and applied a stepper motor mount with dampened coupling in place of the handwheel. The mount accepts a NEMA #23 frame size stepper motor for CNC control. This allows the table to be used as a 4th axis with CNC systems that have the capability to drive a rotary axis.
The reverse rotary table is perfect for using on the tilting angle table (P/N 3750). The reverse mount allows access to the handwheel from the front of the machine (see photo below). If you used a standard rotary table in the previously described set-up the handwheel would be mounted facing the backside of the X-axis.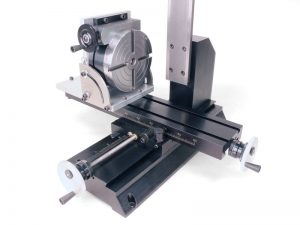 NOTE: We are stating the following weight limits for our rotary tables for continual use.
Horizontal orientation—50 lbs.
Vertical orientation—30 lbs.
Vertical rotational torque—6 foot/lbs. (meaning it can lift a 6 lb. weight when suspended 12″ away from the center of the rotary table)
The rotary tables can hold more weight when they are not under a continuous load. Click on the Video tab above to see examples of different weights and uses for our rotary tables.
NOTE: CNC-ready machines cannot be operated manually until stepper motors are installed.
Included Parts:
2 35580 Hold-down clamps
4 30561 10-32 T-nuts
2 40330 SHC Screw, 10-32 X 5/8″
2 40510 SHC Screw, 10-32 X 3/8″
1 37090 Chuck Adapter
If you would like to convert your current rotary table to the reverse set-up you can send it back to Sherline and we can make the change for an $104.25 charge (includes parts and labor). Just call one of our customer service representatives to set up a work order.
NOTE: Because components of the table are ground as a set during production, the P/N 3700-OP rotary table cannot be upgraded to the P/N 3700-CNC-OP version later on. A new rotary table with stepper motor worm housing must be purchased.
For in-depth details about the Sherline CNC-Ready 4″ Rotary Table CLICK HERE.
Other Purchasing Options: